1. Precession vortex flow meter installation requirements
1) The precession vortex flowmeter should be installed according to the flow direction mark.
2) The precession vortex flowmeter can be installed horizontally, vertically or inclined at any angle.
3) The requirements for upstream and downstream straight pipe sections are shown in Figure 1
4) Except for the larger particles or longer fibrous impurities in the tested medium, there is generally no need to install a filter.
5) There should be no strong external magnetic field interference and strong mechanical vibration around the installation of the precession vortex flowmeter.
6) The installation of the precession vortex flowmeter must be reliably grounded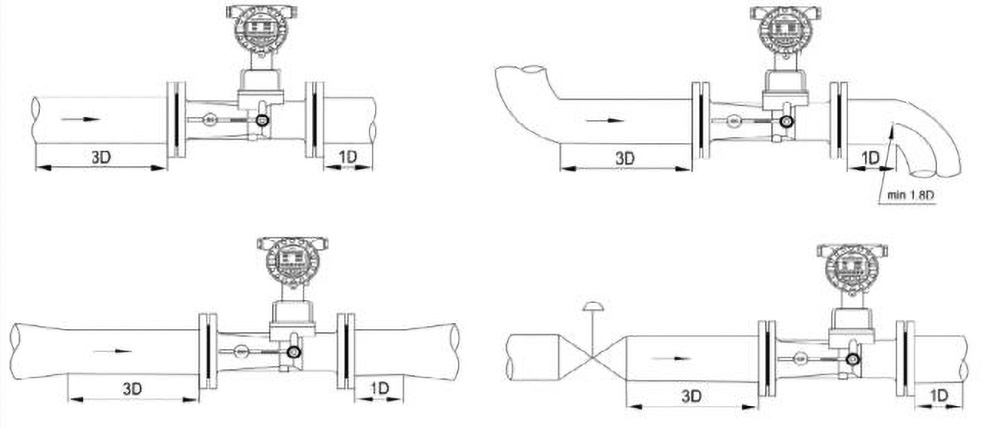 2. Precession vortex flow meter maintenance
(1) On-site installation and maintenance must comply with the warning "Do not open the cover when there is explosive gas", and turn off the external power supply before opening the cover.
(2) When the pipeline is installed and tested for tightness, pay attention to the very high pressure that the pressure sensor of the vortex flowmeter can withstand, so as not to damage the pressure sensor.
(3) When it is put into operation, the upstream and downstream valves of the flow meter should be opened slowly to avoid the instantaneous air flow damaging the meter and pipeline.
(4) When the flowmeter needs to have remote signal transmission, it should be connected to the external power supply 24VDC strictly according to the requirements of 3 and 4 "Electrical Performance Index", and it is strictly forbidden to directly connect the 220VAC or 380VAC power supply to the signal input port.
(5) The user is not allowed to change the wiring method of the explosion-proof system and arbitrarily twist each output lead connector;
(6) When the flowmeter is running, it is not allowed to open the front cover to change the instrument parameters, otherwise it will affect the normal operation of the precession vortex flowmeter
(7) Do not loosen the fixed part of the flowmeter at will.
(8) When the product is used outdoors, it is recommended to add a waterproof cover.